What do we want?
When do we want it?
Now!  
We grow up wanting things. As a child, the list was endless. I had a strong desire to find my way around where I lived. Seacombe was a collection of terraces with the promenade on one side. The prom and beach were real adventure playgrounds, especially with the steep gradients.
That wasn't enough. Mum and Dad took us to different places on the Wirral. We always used the bus. In year 4, the school took us on a Wirral tour. All of these trips were mind-blowing. To stand on top of Thurstason Hill, with both rivers in sight on a sun-bleached day filled me with inspiration.

But I was only little. The bus fares and knowledge were elusive. I was stuck. I spent hours studying a map of the Wirral.
I really wanted a bike.
"The roads are too dangerous," Dad would say. When I was 12 I thought he was relenting. He was thinking out loud planning how we could all have bikes.

Within days however, my younger brother had an interaction with a mini on a borrowed bike. The idea was quashed. All I could do was borrow. Tom Hazelhurst and Micheal Guile were my saviours. On Tom's bike, I'd scream up and down Kenilworth making crazy turns into the groves. Yes, sometimes I'd lean over too much and the pedal would catch the floor. I wore the abrasions like medals. On Michael's bike I once ventured into Birkenhead. Some scally with snot all over his nose on some old two-wheeled wreck decided to chase me to get the bicycle pump. I lost him before losing myself. It took hours to get home.
I wanted a bike but had to wait until I was in my twenties. I knew every inch of the Wirral and beyond.
I wanted to play that piano which turned up in the front room of our new house.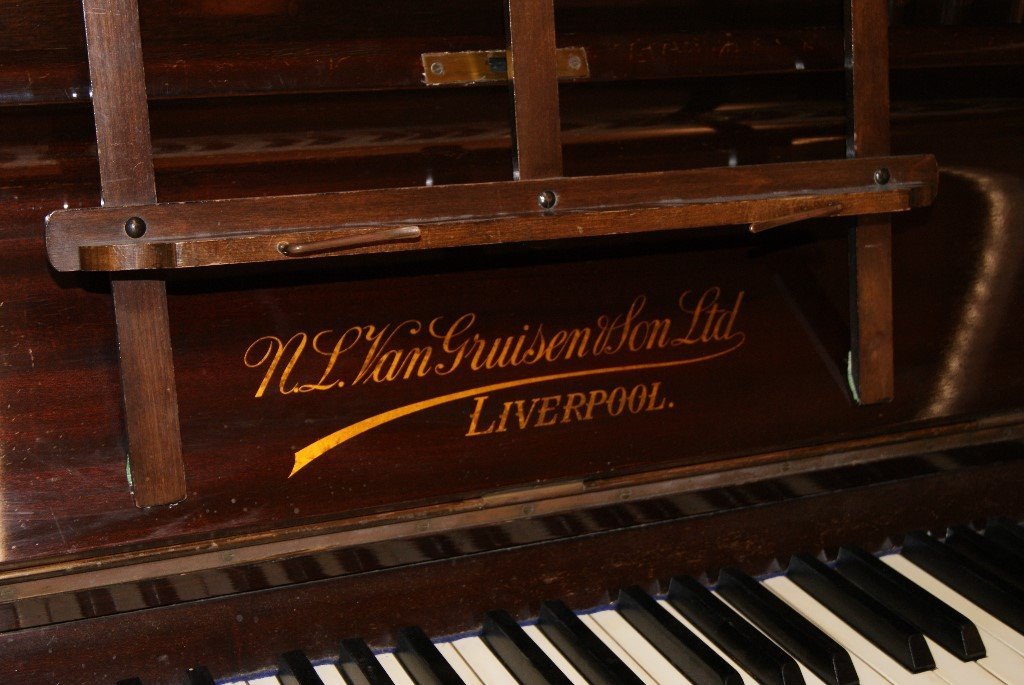 "I've lost the key," said Dad.
Yeah, right!
By the age of ten, I was learning the recorder and cello. My cousin Joan had a piano in Liscard so I could play by ear. At my mate Rob's house, there was some easy music on the stand and knowing both clefs, I sight read "D'ye Ken John Peel."
The following Sunday, whilst Dad was at the pub, I used string and a screwdriver to open the locked lid of our mystery instrument. It had stood alone in the parlour for three years, untouched and unloved. I felt sorry for its lonely existence.
The parlour had a snooker table. Apart from snooker, it was a great base for Subbuteo and the Airfix racing cars. The piano was the icing on the cake. With the lid open, I looked lasciviously at the keys before playing a Mozart minuet. Cousin Joan had taught that to me at her house.
It was just the beginning. What a life it's given to me. Incidentally, the parlour was home to many great things. The knitting machine, my dad's moped, the piano obs and my nan in her bed. For five years she graced the front room. After passing on, Dad left the religious icons and crucifix in place. I would sit silently by the piano reflecting on the life that had passed. 
I wanted my dad to learn to drive and get a car. Well, two out of three ain't bad.
I wanted to be a teacher.

From the age of fifteen, I imagined myself turning up with a briefcase, spouting augustly about my chosen subjects. That was 1971. it took nineteen years before I faced a posse of snotty fourteen-year-olds with the attitude of a smelly fart.
When I was a teacher, I wanted to teach primary. That was easy. I left the North London madness to go to a small primary school dwarfed by its grim grey surroundings. Windows stared oppressively down onto the playground. But the children gave us the colour.
I wanted to know what was wrong with me. I was weak. Walking became difficult. The result was MS. It would be a gradual decline into the abyss of fatigue and disability.
In the next school, it remained a sinister secret. The truth did come out. It was a relief.
I stopped wanting things.
Life was becoming a battle to stay in control. Now I want to be more tolerant of the naysayers. I get labelled with neurotic paranoia.
"Everyone gets tired."
I'm sure they do but there's a difference. People battling with chronic conditions live with internal conflicts as our immune system goes ape. Even when we're asleep
"Get our more." 
I get out enough. I get out in a wheelchair but the winter is tough. When I was able-bodied, I braved the cold by walking briskly and warming up. It doesn't happen in a chair Anyway, I travel frequently on trains and planes. But get this, it takes me ninety minutes to prepare to go out. Transferring can be treacherous so if I want to sit at home, I bloody will do.
"You're just getting old."
There are so many notions bandied about concerning ageing. I don't hanker for the "good old days"; my nan always said it's a myth. I don't think life is changing too quickly and I love technology. If I was able, I'd still be fit. My joints wouldn't ache.
I sit and listen to some people. They turn up with a face like a robber's dog looking for any excuse to complain. What's the use of the negative?

Any explanation of my ailments will be countered by claims of similar impediments. Positivity is my way of getting through. The humour stays.
Now, what do I want? I want people to be honest with me. It's not a competition for the worst condition. Probe into the depths of your rats' maze and think of reasons to be cheerful. 
Thank you for reading.